We find it hard to believe that people will travel for more than an hour to visit our basic health facility in Sulkuni. This is, however, the story of many who say that they come all the way because this clinic is known to make people well.
Monimaya Mondal is a new patient who registered at our clinic for the first time on the 12th of May, 2018. She traveled to the island of Sulkuni from Malancha. This is a journey that is tedious & time consuming. She had to take a bus, cross the river by boat, use a cycle van to finally reach our clinic. When she met our team, she shared of how she has been suffering from a skin infection. She had been to several doctors & health facilities but has had no relief. She said that she heard about the clinic from a neighbor who told her that there was a quality health center in Sulkuni where many were being made well. She came hoping & desiring to be made well. Our team in Sulkuni is praying everyday that God will make her well & that she will know that our clinic is not just about dispensing quality medication but also about trusting in God for our healing. Most people in the area refer to our center as the God clinic because they not only receive medical attention but are blessed by the prayers of God's children each time they visit.
I can work again- Swapan Das
Agriculture in the Sunderbans is extremely difficult as farmers are only able to harvest one crop each year. This is because of the water situation & the repeated cyclones that have devastated this region.
When Swapan first came to our centre a few years ago, he was very weak & depressed as he was not able to farm his land because of ill health. This was a terrible blow to his family as he is the breadwinner at home.
When he came to the clinic he was diagnosed to have high blood sugar.
After consistent treatment & complete lifestyle changes, Swapan is now able to use his tractor & be actively involved in farming his land as well as helping other farmers in his hometown.
"The medical centre has restored & saved my life", he declares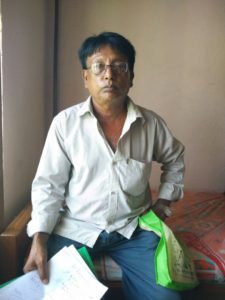 I can finally sleep well at night- Mrs. Pramila
Mrs. Pramila met with an accident a few years ago. She was badly injured & has suffered with terrible pain ever since. She began coming to our center around 4 years ago.
With regular & focused treatment, she is beginning to feel much better. She is grateful that she can finally sleep through the night without pain.